Calvary Addiction Recovery Center - Arizona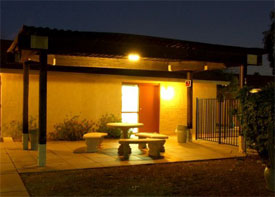 Since 1964, Calvary Addiction Recovery Center has been a leader in Christian addiction treatment and recovery. The Calvary program addresses the practical, physical and spiritual aspects of addiction and problem gambling, setting the stage for long-term recovery and restored family life.

Calvary Addiction Recovery Center's treatment program is for men and women, 18 years and older, who are struggling with substance abuse and problem gambling. Our program is designed for those in search of a Christian or spiritual 12-step program; those who struggle with relapse or dual diagnosis; and for individuals looking for a nurturing, safe environment to begin a new life in recovery. We recognize that each client may be in different stages with regard to spirituality and we commit to meet each client at their point of need.

We believe addiction and problem gambling are diseases that are chronic and progressive. They are diseases that affect the whole person: physically, emotionally, mentally and spiritually. Calvary Addiction Recovery Center also believes that chemical dependency and problem gambling are family diseases. Nearly all family members and significant others are affected by a loved one's addiction.

Education is provided regarding: healthy communication, family roles, coping skills, and resolving conflict.

Addiction and problem gambling destroy families and lives — we see it every day. But there truly is hope for alcoholics, drug abusers and problem gamblers and we can help you take the first step.

Please visit our web site or call us at (602) 279-1468 for more information.
Join in and write your own page! It's easy to do. How? Simply click here to return to Christian Drug Rehab Centers.