Eternal Awakenings Christian Drug Rehab - Texas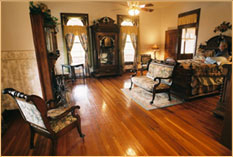 The effects of addiction not only impact the addict, they also have negative consequences for others as well. That's why Christian rehab is doubly important. At Eternal Awakenings, we provide therapy for the whole family.

We are located in a historic mansion in Gonzales, Texas. The beautiful and restful atmosphere is conducive to the restoration of hope in one's future.

Hundreds of people from all over the USA have been helped by our Christian rehab services.

Eternal Awakenings Christian Drug Rehab Center is rooted in the vision of Jim and Karla Welch. As a recovering addict himself, Jim organized a study on addiction recovery in 1982. For the next 20 years he and Karla dreamed of starting a Christian based drug rehab facility. That dream began to come to fruition in January 2002. Though they faced many challenges along the way, Jim and Karla are committed to the vision God gave them. And they are committed to each person God brings to them.

The central factor in Christian recovery is the Word of God applied to the lives of addicts. We believe that the gospel is central to recovery. It is full liberation that is needed - not just physical freedom.

The appropriate place to start in recovery is in submission to Jesus Christ and His forgiveness. As a child of God, the recovering addict is empowered by the Holy Spirit to overcome the challenges facing him or her. We facilitate the development of a vibrant daily relationship with Jesus Christ through the working of the Spirit.

Our program centers around the Christian 12-step process. Each person is helped through the steps by a mentor who has him/herself experienced the 12-step recovery process.

Most of our process is conducted in group sessions. Each group facilitator has more than 20 years working in the field as well as serving as Christian leaders.

Start your new life today. Learn more about us at our web site or call us at (888) 672-0298.
Join in and write your own page! It's easy to do. How? Simply click here to return to Christian Drug Rehab Centers.