Faith Farm Ministries - Florida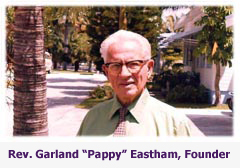 With three locations in Florida, Faith Farm Ministries provides a free of charge nine month ministry to drug addicts and alcoholics. There are programs for both men and women.

It is our mission to help men and women establish a strong, personal spiritual foundation which allows
them to rebuild their life and become a productive member of society.

During the 9 months, they are cocooned in a loving environment with a staff that has a "Heart for the Hurting." Many of the staff are successful graduates of the Faith Farm program. They understand what the residents are going through because they've once been there themselves. They are also motivated to bring the residents into the same victorious success that they now enjoy.

The daily schedule begins with a full breakfast - something many addicts haven't had in years. After a chapel service residents attend a class. Various topics are covered, including, causes of addiction, setting boundaries, anger management, and more.

Each resident participates in a work project. This teaches discipline and responsibility. Evenings are free for reading, GED Classes, recreation, reading/writing classes or counseling. Staff members are required to live on the Farm. That way no resident is without care any time day or night.

Upon completion of the nine months and giving a three minute speech to all other residents about their particular experience or pathway to success, they have several options besides returning home. They can choose to stay and get advanced studies for one year in the Service Leadership Service program. They can go to "Omega Work," where they reside in Ft. Lauderdale for six months which allows them to work to accumulate enough money for an apartment rent and security deposit. Finally, "Omega College" works to get scholarships at local trade schools. Students reside at the Ft. Lauderdale Faith Farm campus while attending school. Either Omega program provides training on Resume' preparation, completing employment applications, interview skills and job searches.

Please visit our web site or call us at (561) 737-2222 for more information.
Join in and write your own page! It's easy to do. How? Simply click here to return to Christian Drug Rehab Centers.