Hope by the Sea - California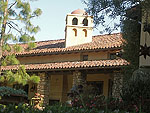 Hope by the Sea is a residential, Christ-centered, addiction treatment facility. Located near the coast in Orange County, California, Hope ministers the love of Christ to those society has often forgotten.

Hope offers healing and restoration to God, family, and self. Healing from addiction is extremely difficult. An addict typically needs help - and that is where Hope by the Sea steps in.

We firmly believe that God will not only help you overcome addiction, but He will also use your addiction experiences to comfort others enduring the same things (2 Corinthians 1:3-6). God can redeem your pain and suffering for a good, spiritual purpose.

Addiction to alcohol or drugs is overwhelming. It robs a person of hope. It makes a person feel that life is meaningless. But God has a purpose for your life. And there is hope for a life free from addictive substances. You can do it. We are here to help.

In Ephesians 3:20 we read, "God is able to do far more than we would ever dare to ask or even dream of, infinitely beyond our highest prayers, desires, thoughts, or hopes." God wants to do such a work in your life. Let us help you find freedom in Christ.

Please visit our web site or call us at (800) 708-3173 for more information.


Join in and write your own page! It's easy to do. How? Simply click here to return to Christian Drug Rehab Centers.