Victory House Christian Academy - Kansas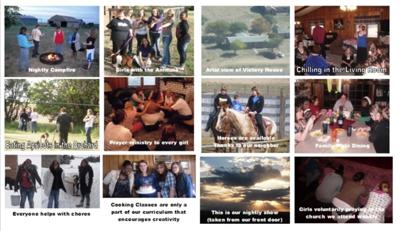 Victory House Christian Academy (VHCA) is a Christian residential girls home. We exist to assist families through placement of their teenage daughter in a loving structured family environment. Victory House provides Bible based spiritual guidance, traditional and alternative schooling, nutritious meals, positive re-enforcements, training in social skills, counseling, prayer and restoration for both her and the family.

Teenage years are difficult even when they are going smoothly, but when rebellion, suicidal thoughts, depression, eating disorders, cutting and poor choices in friendship creep into a girls life the results can be devastating to both her and her family.

Often parents seek help to rescue their daughters through residential treatment centers only to find that the tuition costs are too high for the family to afford. At Victory House we believe that getting young ladies the help they need is too priceless a ministry to place out of financial reach of struggling families. At Victory House Christian Academy , we are willing to prorate our already low tuition fees so that every family, regardless of financial status can afford to place their daughter with us.

Our Mission Is To... Restore and train teenage girls who are struggling with life destroying patterns, choices and addictions; to equip them for successful living when they are reunited back to their homes; and to provide a safe, low cost, residential, homelike environment for teenage girls.

Please visit our web site or call us at (785) 694-2921 for more information.
Join in and write your own page! It's easy to do. How? Simply click here to return to Christian Drug Rehab Centers.